News
10.11.2003

| | |
| --- | --- |
| Process stable HSC-Hard-Milling over 10xd and smaller dia. 1,0mm | |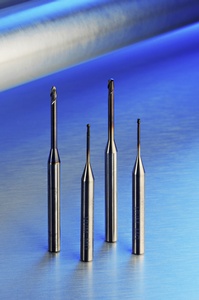 In the today's production life, high-speed-cutting and high-hard-cutting doesn't need to explain in modern and up-to-date mould and die tooling shops. Especially the high-speed-milling operations increased extremely fast within the last years and there is a clear tendency that milling diameters decrease more and more while tool length is increasing.
Mostly those kind of tooling shops, producing injection mould's for the electronic or plastic industry, knowing very well about the problem of very steep walls (< 0,5°) and small, deep grooves or rips with L/D-ratios from over 10xd.
In order to stay abreast of these changes, WEXO over-worked it's product range of carbide end mills for high-speed and hard milling totally. A consequential adjustment of tool material (micro grain carbide), optimized geometries and new coatings guaranties a high process stability and highest productivity when high-speed milling hardened steel – even over 60 HRC.
Special attention was turned to the small diameters – L/D-ratios over 10xd and diameters from 0,3 – 20mm argues for it self. The program includes the standard ball nose end mills, mini end mills with extra long neck parts for very deep rip-milling operations as well as multi-fluted end mills for finishing and roughing operations.
All end mills are mainly for high-speed and hard milling operations up to 65 HRC. The latest program was introduced during the EUROMOLD 2003 in Frankfurt and are included in the newest catalogue "Fräswerkzeuge 2.2".