News
24.07.2013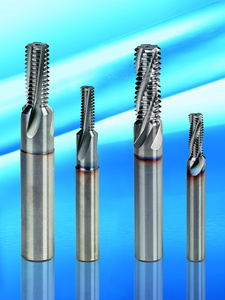 WEXO solid carbide thread milling cutters 914440 and 914445
Wherever production problems occur when using conventional taps or forming taps, thread milling provides a useful alternative. Machining is effected in one revolution with the rotating tool additionally moving in the axial direction by one pitch turn.
In comparison to a tap, there is no chamfer required when using a thread milling cutter, so that blind hole threads can be produced up to shortly before reaching the drill base. During a tapping process materials of a higher tensile strength often cause problems, which can be solved by the new models of WEXO thread milling cutters. The user only requires a machine which can carry out the so-called helical interpolation.
With the thread milling cutter 914445 countersink and thread can be produced in one step so that processing times can be minimized. Both models 914440 and 914445 can achieve a maximum thread depth of 2xD. Moreover, these tools are universally applicable with a wide range of materials (up to a hardness of 54 HRC). Due to the combination of the coating (TiCN) and the optimized cutting edge geometry, high wear resistance and process reliability are achieved.
The tools are available in metric coarse M3 to M20 and metric fine M4x0.5 to M20x1.5 and are equipped with central internal cooling.
Other dimensions or types on request.